Astral Mermaid Spell
Rated 5/5 Stars

This spell can be used in many ways to access the knowledge of the mermaids on the astral plane.

You will need the following items for this spell:
Small pouch

Crystals that connect with the water/dream element: ocean jasper, moonstone, pearls, shells, sodalite, azurite, enhydro quartz, black tourmaline, labradorite, kyanite, etc.

Dried herbs that connect with the water/dream element: seaweed, kelp, hibiscus, sandalwood, bay, coconut, lotus, salt, etc.

Moon Incense

Blue or Green Candle

Small vial of water (from the sea, from a lake, moon water, etc).
Casting Instructions for 'Astral Mermaid Spell'
FEATURED ITEM
New Beginnings ritual kit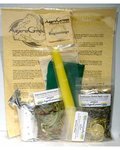 VIEW ALL RITUAL KITS
SpellsOfMagic has a huge online store, supplying you with any and all your occult and new age needs.
Firstly I want to preface this by saying that your intention is what really matters here. This spell can be used to come face to face with mermaids in the astral realm, it can be used to find your mermaid spirit guide in the astral realm, it can be used to help you become a mermaid in the astral realm, etc. Overall, this spell is intended as a base for whatever intention you have, but it is rooted in astral projection and mermaids. There are also two parts to this spell. There is the making and the blessing of the spell itself, and there is also the actual meditation into astral projection part.
For the first part, the spell, start by lighting your blue or green candle. Think about the correspondences of the colors itself, think about the colors and the meanings being brought to life by the flame. Light your incense on the flame, I choose to use moon incense because of the connection between the moon and the ocean, however you can use any incense you believe is fit. For example, sandalwood incense helps to induce astral projection. Bless all of the material you have chosen, as well as the pouch or vessel you will put them in. I bless everything by waving the incense around the materials and thanking the Earth and the Ocean for providing them for me to use. Calling upon any deities or guides to enhance the materials can be done at this time, but it is a matter of preference. The list of materials I have provided is just a starting point, you do not need all of them by any means and you can choose whichever materials you want based on the intentions you have. Place each material in the pouch one by one, meditate upon why you chose the material and what properties it holds. Make sure to handle it and get a feel for what it feels like, smells like, and looks like. You might choose a saltwater pearl because you want to venture into the ocean or contact oceanic mermaids. Similarly, you might choose a freshwater pearl to contact lake/swamp/pond mermaids. The vial of water also should contain the proper type of water as well. Be careful about the materials you choose and make sure you know why you're choosing them. Another good point is to include a crystal or herb that repels negative energy and protects you. This can be something like black tourmaline. After this, there are a few different chants you can do depending on what you want to accomplish. I always suggest making your own, but here are some of the ones I personally use. While saying these words, envision a circle of blue around you and your altar.
"My mind is open to solutions, end of problems, resolutions. Bring me the key in sleep so sound, that an answer comes, simple or profound."
"Merfolk in this place or time, hear me chant this little rhyme. Come as helpers, teachers bold. Guides to knowledge true and old, Make my magick strong and true, and for this help I do thank (adore,worship,grace,etc.) you."
Finally, before you go to bed, place the pouch underneath your pillow or next to where you sleep. It will come with you in the astral realm if you want it to.
For the next part of this spell, there is a lot of meditation and prep. Before bed, it is best to take a shower or a bath in order to get you acquainted with the element of water. I also find that it is better to be cleansed before going into the astral realm. Make sure to meditate and think about the place you are journeying to. Personally, I will draw the realm I am going to, or find artwork online that inspires me. I always think about what I will look like in the astral realm, I try to imagine the animals, plants, and mermaids that live there. I think about what their homes/city look like, what color the water is, what they look like. I think about their glistening skin and their powerful, colorful tails. It is important to meditate on this because it helps to prepare you for where you are going. Astral Projection meditation is a whole other topic in itself, but the best advice I can give is to be fully relaxed and not let fear break any trance or meditative state you are in. Don't fight the process, but if you do not succeed in making it to the astral realm the first time you try, don't be discouraged. This takes A LOT of practice to master. Once you are there, think about your intentions again, and they will be fulfilled.
I hope this helps! I am totally open to any suggestions or questions!
ABOUT THE AUTHOR
Bellezzz
Bellezzz has been a member of the site for 8 years, since Nov 08, 2014
Comments
Comments are open to
members
.
Join today
and be part of the largest pagan / new age community online.
Finally, a mermaid spell that's actually true!
Thank you! I've been searching for a mermaid spell that is actually true for so long and I could not find a single one. So I made this one and I really hope that the truth reaches on this site.
I have to agree with you SeleneSoleil, finally! One that is actually possible.
---
---
Is this content used without proper permission?
Please report any violations of copyright via our contact page.
---
*
All information on this page is provided by the coven or person named and the contents of this page is not mediated by the administrators of the website. Please use common sense when following any directions on this page. Do not ingest anything which does not seem safe. If you suspect the content of this page to be intentionally deceiving please
contact us
immediately.