Wood Pendulum with Chamber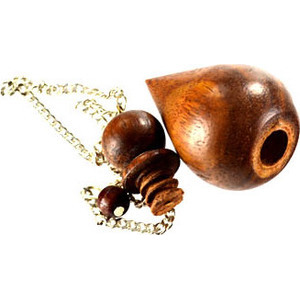 Specials & Coupons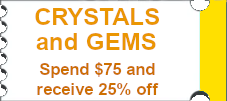 WEIGHT:

0.05 lbs



SKU:

GPWOC
Description
Created out of a simple piece of lathed wood created into a pendulum bob with a thin chain 6" long, this pendulum holds a hidden chamber large enough for a few drops of oil, some ground herb, a small shard of crystal, or any other tiny object that will aid your divination.

Similar Items:
Wood Pendulum with Chamber Reviews:
Rated
3
out of 5 from
1
reviews.
---
Firstly, what arrived is not accurately represented in the photograph. What the image appears to show is a short, squat pendulum with a small lid to access the chamber. The one which arrived is about three inches long, with a lid screwing on about half the length of the bob. Also, the chain attachment is nothing short of strange. The loop in the wood is a bit flimsy, though definitely more than adequate to hold the bob. However, there is so much epoxy that the last several links on the chain are all one iron-solid chunk together, and it causes the bob to hang off ad an odd angle. This, combined with the enormous length of the bob, causes it to wobble in stead of swinging freely. That's it for the complaints. Otherwise, I can definitely recommend this pendulum. It's a little light for my taste, but I'll still give it a go. The epoxy on the chain can be worked through, if your arrives the same as mine. And the chain is of decent quality -- excellent quality considering the price of the pendulum. The chamber is spacious for such a small item, and the inside (I did shine a light inside to have a look) is surprisingly smooth, considering how easy it would have been to simply use any old drill bit to hollow it out. The brass fitting to screw the two parts together is thoroughly epoxied in, and well-fit to the wood. The parts which need to fit flush do so. The turning is a little flawed, but again, for such a low price, I am not disappointed. Just don't expect master craftsman artisan work. The length of the bob and its light weight do make it swing a bit slowly, but I'm sure there will be ample applications for this.