Cyrokinesis
Rated 5/5 Stars

Cryokinesis is the ability to control the element of ice.
Casting Instructions for 'Cyrokinesis'
You will need the following items for this spell:
Cultivating water energy

First, stand in position for ki breathing, close eyes and visualize your being surrounded by water, visualize that energy from the water is flowing into your body filling you up, once you think you've had enough it's time to move on.

Lowering a room or area's temperature
First: Meditate for a clear calm mind, then pick the room or area in which you would like the temperature but first check thermostat. Now stand in a comfortable position and close your eyes closed, visualize that your in a blizzard, see the snow flying and frost forming on the ground everything freezing. Gather the feel of this cold adapt to it, now visualize the temperature of the thermostat dropping lower, check thermostat see if it lowers.

Ice ball
Stand in a comfortable position, hold hands like holding a ki ball. You should hold your hands at your side near your hip. Visualize water flowing on top of your hands flowing into your hands swirling into a ball, then visualize it slowing freezing feel the coldness, hear it cracking, hands should feel cold.

Ice blast
Perform a Ice ball, then push the ball forward using ki blast, visualize the ball flying being absorbed by a enemy turning them to ice.
Ice shield
Visualize water flowing in you filling you. Visualize the water energy mixing with your ki and Dan Tien mixing together see it exploding out your body visualize it freezing have way forming a dome, fill it with water to make it stronger.

Ice needles
First visualize water filling packing in your arms, now visualize it freezing tense up and shoot the ice forward, use your ishi to send it out your palm and fingertips creating needles.
FEATURED ITEM
Secret Desire Fulfilled
Ritual Kit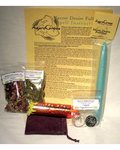 VIEW ALL RITUAL KITS
SpellsOfMagic has a huge online store, supplying you with any and all your occult and new age needs.
ABOUT THE AUTHOR
RaveMaster
RaveMaster has been a member of the site for 12 years, since Oct 02, 2010
Comments
Comments are open to
members
.
Join today
and be part of the largest pagan / new age community online.
.is it real
If you have enough faith in magick then yes. It cojld be possible hoy just gotta belive and have faith. Theres no limit on what we can do with magick we just limit ourselves by listening ti other people who's faith in magick is eran.
There is absolutely a limit to magick. Science doesn't stop existing just because you practice magick, and spells have to work within the confines of what is natural. Saying that people who refuse to participate in illogical and misinformed spells have ''weak faith in magick'' is rather rude and a bit of a misinterpretation of why people dislike spells like this.
I actually wan't to do alot of these but i don't have the materials needed sometimes so i can't do it unless i have the materials and there are some things i don't know where to get or buy.
Lowering the temperature is very possible, but I doubt the ice shield/needles/blast working.
Also the ice ball is just a psi ball infused with ice elemental energy
No you can't control the ice element you can work with the elements but you can't control
Zero117 you are wrong you can't control the elements but you can work with them
fake spell
If you dont Believe in magic then it won't work
Belief isn't the trump card that overrides reality. Magick is a natural force that is ruled by nature. If a spell contradicts nature, it doesn't work. Magick is an energy that affects energy to bring natural change. That's all. You can work with the element of water, cast freezer spells and other spells utilizing snow and ice, but you can't control the element and bend it to your will.
You cannot control ice with Real Magik.
---
---
Is this content used without proper permission?
Please report any violations of copyright via our contact page.
---
*
All information on this page is provided by the coven or person named and the contents of this page is not mediated by the administrators of the website. Please use common sense when following any directions on this page. Do not ingest anything which does not seem safe. If you suspect the content of this page to be intentionally deceiving please
contact us
immediately.