Voodoo Love Doll
The best-known way of getting a man to fall in love with you is to bewitch him through a doll that represents him. Ideally, you should make the doll yourself.
Casting Instructions for 'Voodoo Love Doll'
You will need the following items for this spell:
Wax, Wood or Clay

Bake a Doughboy (be sure to use lots of

spices), or sew a rag doll.
You should make the doll yourself. Carve it from some
natural material such as wax, wood or clay; bake a doughboy (be sure to use lots of
spices), or sew a rag doll. A store bought figure can be used, but it won't be nearly as
powerful as the homemade.
Some very personal belongings of the man you want to enchant, a lock of his hair, a
fingernail clipping, something he's worn should be incorporated into, or attached to, the
doll. Add also one of your nail clippings, a strand of your hair, etc. Use as many of these
personal things as possible the more links you create between you, your beloved and
the doll, the stronger your spell.
Start the ritual on the first day of the new moon. Name the doll, aloud, after the man and
scratch or write his name on the figure. For writing, your blood is best, but if you use ink
(red, of course) add a drop of your blood to it.

Next, using a thorn or pin, gently prick the figure's heart (don't overdo it or you kill him)
saying:
"As this thorn (pin) pierces your heart,
so let it be pierced with love for me."
Or wrap the doll in three ribbons of different colors; black, white and red are often used,
but you may choose any shades. As you wrap say:

"Threads bind; body entwine;
Heart find linked to mine."
If you've baked your doll, eat a piece of it every night, saying,
"As you become part of me,
so let me become part of you."
Do any one of these rituals, but always the same one, for fifteen minutes each evening
until the moon is full; at the next new moon, start again.
If be doesn't respond soon enough, light a red candle and lightly singe the doll's feet,
saying:
"For you I yearn.
For me you burn."
Before long, his feet should carry him straight to you (unless you've burned them too
badly).
When you're not working with your doll, wrap it in a clean cloth of silk, linen or cotton
never a synthetic fabric and put it away where no one but yourself can find it.
FEATURED ITEM
Get What You Want
Ritual Kit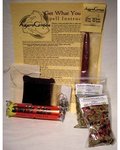 VIEW ALL RITUAL KITS
SpellsOfMagic has a huge online store, supplying you with any and all your occult and new age needs.
ABOUT THE AUTHOR
sanajk
sanajk has been a member of the site for 15 years, since Sep 03, 2008
Comments
Comments are open to
members
.
Join today
and be part of the largest pagan / new age community online.
Incomplete. This is poppet work, not voodoo specifically. The specific herbs you use and the energy you charge while creating the doll as well as using the persons nails and hair to specify it to that person is the basic steps to create any poppet. You can use dolls for any type of spell, it all depends on the herbs you use.
---
---
Is this content used without proper permission?
Please report any violations of copyright via our contact page.
---
*
All information on this page is provided by the coven or person named and the contents of this page is not mediated by the administrators of the website. Please use common sense when following any directions on this page. Do not ingest anything which does not seem safe. If you suspect the content of this page to be intentionally deceiving please
contact us
immediately.