Cupid's Love Pillow
Rated 5/5 Stars

A hoodoo love pillow for when you're apart from your twin flame. For your twin flame to sense you and for you to feel their presence in their absence.

You will need the following items for this spell:
1 pillow

1 love amulet you feel drawn to and wear a lot

1 picture of the person

Doves blood ink

1 piece of paper

1 red rose bud

1 pink rose bud

Lavender

Vanilla

Cinnamon

1 marriage incense

1 hummingbird incense

1 raspberry leaf

Salt

Black salt

1 fire of love oil or adam and eve oil

1 figure candle of a couple pink

1 love candle

2 regular pink candles

1 soul mate candle

1 regular white candle

1 red male figure candle

1 regular red candle

1 swallows heart

1 honey love incense

Pink Blue Sonata/ Lavender Incense 1618 gold

Pink Blue Sonata/ Lavender Incense 1618 gold

Attract herbal mix

Hummingbird oil
Casting Instructions for 'Cupid's Love Pillow'
FEATURED ITEM
Secret Desire Fulfilled
Ritual Kit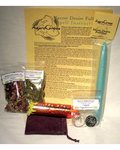 VIEW ALL RITUAL KITS
SpellsOfMagic has a huge online store, supplying you with any and all your occult and new age needs.
Cut a small slit on the pillow. In a bowl mix all of your herbs and incense together. This mixture will not be used for burning. add the mixture inside of the pillow along with the swallow heart. Cast a circle and place the pillow in the center. Place the pink figure candle of a couple first behind the pillow, the red male (if this spell is for a female use a female figure candle) in front of the pillow. Then next to the pink couple place the love candle followed by the soul mate candle and regular red candle until it meets the red male candle. This should be set up in a circle.
After the red male place your regular white candle followed by a regular pink candle. Next, take the black salt and make a circle around the candles and pillow. This will be beneficial and used for your circle of protection. Black salt is used for keeping evil forces, bad neighbors, negative spirits, and negativity away so it will protect your spell and your twin flame from all harm. Drop one single drop of your love oil into each candle.
Then, anoint the male figure candle with hummingbird oil. When a female rubs hummingbird oil on the man she loves he will not be able to escape or avoid her which empowers this spell so much more when focusing and concentrating on your twin flame if this spell is for him and you know for sure they are your twin flame (twin flame means your one and only true love and soul mate; the one).
Next, rub the hummingbird oil on the picture of the intended (your partner or twin flame). Set the image a side for a moment. Take a piece of paper with doves blood ink and write the full name of the person you are doing this spell for (your twin flame for example: Michael Adam Shultz) Then above the persons name to the left side draw a symbol that represents your love between you and that person (for example a firework, a heart, a dove, a star, or a butterfly).
Next to that symbol above the persons name draw the infinity sign to represent eternity (this represents eternal love between you and your twin flame). Now place that piece of paper on top of the pillow. Then, in the center of that piece of paper place the image of the person you anointed with the hummingbird oil. Sprinkle some salt on top of this persons picture and on each candle to represent protecting them, healing, and cleansing their energy. If you feel it's right you may do some smudging to also protect the person. Next you may also burn some love incense if you wish for more empowerment.
Now relax, clear your mind, focus, and concentrate. Allow love light to surround you and your circle to fill your heart. Feel that love energy all around you and your twin flame. Feel the strength and power in the palm of your hands and hover your hands. Place your love amulet around the persons picture on the pillow. Now, over the image of the person on the pillow and allow the love energy to pour through you and into that person and the pillow.
Chant: "With this spell I surround you now protecting you and filling your heart with love. With this pillow every time I touch this pillow you will feel me, hear me, smell me, and sense me. My embrace, energy, and spirit surrounds you with me through this pillow. With this pillow I call upon your energy and spirit now. Your energy, presence, spirit, and embrace surrounds me. Open your eyes and you will see me. Allow my love to fill your heart, mind, body, and soul. This spell will not fail. With harm to none, no force, and no manipulation I call unto you my twin flame true love divine. With the assistance, help, and guidance I call to thee Aphrodite, Cupid, and Harmonia the gods of love. I bless you and this love that has descended from above. This is my will, so mote it be."
Then, allow for any incense to burn out completely. Relax, meditate, and allow love to fill your heart. Take it all in. Then when you feel the spell is complete blow out the candles in the same order you lite them. Now clean up your mess and sleep with the pillow every night, hold it whenever you miss the person, are apart, or want them to feel your energy. This pillow will ease your heart from aching and help you feel more comfortable.
ABOUT THE AUTHOR
GoddessLove
GoddessLove has been a member of the site for 10 years, since May 17, 2013
Comments
Comments are open to
members
.
Join today
and be part of the largest pagan / new age community online.
This spell feels like overkill. You could probably break the items into thirds and cast 3 different love spells. More items doesn't mean it's more powerful. Items help, but you don't need to use every love related item in your spell. [and yes, this spell does work, but it doesn't mean it will work every time. There are factors as to why some spells do/don't manifest]
Yeah I agree with you there.
What would you recommend for anyone that wants to try this spell?
you can trim it down big time. make your own pillow [find pink or red fabric at the store. i have one with hearts on it] stuff it with cotton [be sure to charge everything you're using with energy] then place 3 items inside the pillow [rose, lavender, cinnamon, dried apple, dried apricot, rose quartz, rosemary, dove blood oil, love oil, rose essential oil, lavender essential oil, so on, but just pick three, don't go crazy. if you have a beau in mind, you can include a photo, an object of theirs, or something like their hair.] sew it up while visualizing your desired outcome, and say a chant as needed. keep this pillow under your pillow, meditate with it daily, visualizing your desired outcome, and keep it in a safe space. [carrying it with you can act as an amulet to attract love, so if you want to keep it in your bag, you can]
Jeez! that is alot of ingrediants
I know. As nekoshema said, the amount of items is a bit overkill.
This is not hoodoo, this is excessive. There is such a thing as too many ingredients. It does not matter if every item listed has love energy, each item has more energy that just love. You use an item with love, luck and wealth energy associations, along with twenty other items that have three or more associations, this will certainly disrupt the Magik you are trying to cast and just make a mess. At best this does not work, at worst it backfires. Take Nekos advice and reduce the items if you wish to cast.
---
---
Is this content used without proper permission?
Please report any violations of copyright via our contact page.
---
*
All information on this page is provided by the coven or person named and the contents of this page is not mediated by the administrators of the website. Please use common sense when following any directions on this page. Do not ingest anything which does not seem safe. If you suspect the content of this page to be intentionally deceiving please
contact us
immediately.