Lilac's Strong Bond Romance
When two close friends are dating, but not officially, sometimes a relationship needs a little stability. This spell gives just that.
You will need the following items for this spell:
Spice & Lemon/Lime

Salt & Sugar

Water

Dirt

A jar/bottle

Paper & Writing Utensils

A piece of Jewelry

Virgin/Lavender Oil
Casting Instructions for 'Lilac's Strong Bond Romance'
FEATURED ITEM
Attract Lover ritual kit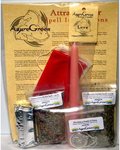 VIEW ALL RITUAL KITS
SpellsOfMagic has a huge online store, supplying you with any and all your occult and new age needs.
*The names Sarah and James are used here but they are meant to be replaced by the two participants in the relationship in question* Note: This is not for forcing love, it is for making love that already exists stronger.

Moon: Waxing
Planet: Venus
Zodiac: Leo
Day: Friday
Colours: White & Green

Method:

Prepare your altar with all necessary ingredients, being sure everything has already been cleansed. Cast your circle on the Waxing Moon and wait until all within the circle seems peaceful. Then start by placing your receptive hand on the altar and let it act as a wire, transmitting all the Earth's energy to you. Absorb it and once you feel grounded begin the spell by taking the jar/bottle and saying:

''Jar of empty, Jar of clear, Holds no courage, holds no fear, Allow me to make use of you today, Allow me to enchant you in every way. Oh Lady Diana, Great Goddess of Love, Please bless my spell with spirit above''.

*Gently begin blowing in Salt & Sugar.*

''Air blow! Send winds of pure veracity,
Feelings returned are shared with velocity,
Carry pure salt & sugar before it scatters,
Carry nothing, but truth, in all matters!''

*Slowly start pouring Water.*

''Water flow! Carry all of my will,
Let thoughts of Sarah never be still.
Carry them far, don't stray or tire,
Carry loving thoughts to her desire!''

*Begin sprinkling Spice & Citrus*

''Fire burn! Enflame all of his desire,
Power her beauty, make it ever higher,
Carry his words of compliments sweet,
Carry his passion, his love, and his heat!''

*Start slowly adding Dirt.*

''Earth adjourn! The feeling of despair,
Until Spirit and Fire, are blown by air,
Carry solidity and the feel of Self-Worth,
Carry slow loving and ground it in Earth!''

*Draw a Sigil of Sarah.*

''Spirit turn! From the East to the West,
With Waxing Moon let James be blessed,
Give him the Sight, the true power to see,
His life in the Light, with pure impartiality

*Draw a Sigil of James.*

Past mistakes are learnt from and fade,
Their aptitude increases, decisions made,
If ever they decide that this is not fate,
Let this spell end and forever dissipate.

*Draw a combined Sigil.*

With Power of the Great Goddess Diana,
And the Luck of three times three,
A Happy Merry Meet to all Magick Mana,
And the message, So mote it be!''

Wrap the piece of jewelry in the paper and gently lower it into the jar, ensuring none of the potion splashes. Close the jar and inscribe the Combination Sigil onto the cover, afterwards anoint the jar with Virgin or Lavendar Oil. Leave the potion to absorb the moon's energy for three or nine nights and then give the jewelry to the female involved.
ABOUT THE AUTHOR
LadeeLilac
LadeeLilac has been a member of the site for 10 years, since Oct 07, 2012
Comments
Comments are open to
members
.
Join today
and be part of the largest pagan / new age community online.
There are no comments for this article
---
---
Is this content used without proper permission?
Please report any violations of copyright via our contact page.
---
*
All information on this page is provided by the coven or person named and the contents of this page is not mediated by the administrators of the website. Please use common sense when following any directions on this page. Do not ingest anything which does not seem safe. If you suspect the content of this page to be intentionally deceiving please
contact us
immediately.