Manifestation Potion
A potion to get what you want out of someone. A less traditional method.
Casting Instructions for 'Manifestation Potion'
You will need the following items for this spell:
Green Tea Bag

Sage - one pinch

Cinnamon - one pinch

Thyme - one pinch

Your Blood - a few drops

Optional:

Other Herbs/Flowers

Candles

Crystals
Take the green tea bag and open it. If you wish, take a little of the tea leaves out. Add the sage, cinnamon, and thyme. Optionally you may add ground up rose petals or lavender if you have a specific use for this potion. However, do not use cannabis or sugar. Tie the bag back up and set to the side.

In a half cup of warm water, add a little bit of your blood (preferably from an existing wound or open up a scab, works best for less than good intentions if there is a slight infection) until the water has a yellowish tint.

Pour the blood water into a microwave safe cup and add water until the cup has enough to make one serving of tea.

Microwave the water until it boils. Take it out and put in the tea bag.

Let the tea steep for at least six minutes.

Stir the tea (use an athame if you wish).

Say:

By the power of the gods/goddess
All bend their will to me
At first taste of this tea
Truth be clear, loyalty bound
Sanity will not be found
Their souls belong to me
So mote it be

Optionally you may use candles and crystals to achieve a specific effect.

Let it ferment for a stronger effect. Don't worry if the potion has anything floating in it (loose leaves, fermentation), this is ok and will not detract from the potion's strength.

If you wish, pour the potion into a bottle so you can transport or store it for later use.

As is, this potion will work on anyone. Add a few drops to their drink, even sprinkle a little on their salad. Just have what you want from the person in mind when you spike their drink/food. Be very specific. You may want the truth about something, unwavering loyalty, a favor, maybe even get the annoying parent/spouse to get off your back. You could even bring them misfortune or sickness. I must stress be SPECIFIC! Even invoke your deity whilst planting the potion. The possibilities of what this potion can do are endless.

DO NOT SERVE THIS AS TEA!!! ONLY USE A FEW DROPS!!!

This is not ''white'' or ''black'' magick. Your intention is what makes it good or evil.

Be careful of what you wish for.

Remember wishes may be taken very literally.
FEATURED ITEM
Secret Desire Fulfilled
Ritual Kit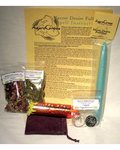 VIEW ALL RITUAL KITS
SpellsOfMagic has a huge online store, supplying you with any and all your occult and new age needs.
ABOUT THE AUTHOR
greywitch124
greywitch124 has been a member of the site for 6 years, since Apr 18, 2015
Comments
Comments are open to
members
.
Join today
and be part of the largest pagan / new age community online.
could u say a wish and it do it???
I'm not too sure what you're asking. This spell seems iffy to me [NEVER serve someone your blood to inject, especially if you have an infection. Even if it's a few drops, don't do it] this whole spell seems odd to me, get what you want out of someone? What does that mean? Are you attempting to brainwash them, get the truth, make them love you? Whatever it is don't expect them to blankly stare forward and robotically go ''it is true I did this'' or ''I love you, will you date me'' magick doesn't work that way. If this is a truth spell they work by making the person feel guilty or you would find evidence of their lie, not them taking a bite of food with this potion on it and going ''I confess!''
Ingest, not inject, though that too. On my phone and it autocorrects silly things.
Yeah, I wouldn't do this if I were you.
Anything involving blood I would reccomend forgetting about.
---
---
Is this content used without proper permission?
Please report any violations of copyright via our contact page.
---
*
All information on this page is provided by the coven or person named and the contents of this page is not mediated by the administrators of the website. Please use common sense when following any directions on this page. Do not ingest anything which does not seem safe. If you suspect the content of this page to be intentionally deceiving please
contact us
immediately.