Creating Fire Elementals
Rated 5/5 Stars

This is *not* a spell, and should only be used by adepts as it requires intense concentration and control of the fire element. Note that all of our so called spells use the powers of the mind and no fancy objects to do our work.

You will need the following items for this spell:
Concentration as all of Lucifer's Elite's ''spells'' require.
Casting Instructions for 'Creating Fire Elementals'
FEATURED ITEM
Vision
Ritual Kit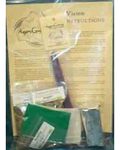 VIEW ALL RITUAL KITS
SpellsOfMagic has a huge online store, supplying you with any and all your occult and new age needs.
Creating a Fire Elemental Thoughtform
Please note that this was not written by anyone in Lucifer's Elite and I rarely ever use their articles as I don't think it's fair to do so. However earlier on this year, I did ask if we could use them for educational purposes only (as long as nothing was modified and copyright kept on), the answer was yes, and as far as I'm aware of-only we are allowed to use them...enjoy!
-Mistress Lucie.
This can obviously be dangerous.
You should be adept at controlling and holding the fire element.
Out of control, this entity can set anything on fire at random and is not to be toyed with.
Be sure to read the page on Advanced Thoughtforms before attempting this.
You should also be adept at creating and controlling basic advanced thoughtforms before working with fire.
1. Get into a trance and visualize you are in the middle of fire.
Feel the heat and hear the hissing and crackling of the flames and feel the burning.

2. Now, begin to collect and condense that fire into a sphere in front of you.
Draw the fire element from all directions into the sphere in front of you.
The more of the fire element you direct into the sphere, the more dense, material, and hotter it will become.
You should feel the heat while you are doing this. The more you compress and condense the fire, the more the heat will grow.
You should actually have the sensation of literally being in an oven.
You can also shape the fire ball into any form you wish. The form should correspond with the job.

3. Now fill the fire ball with whatever you desire it to do.
Desire strongly and feel this deeply while making your affirmations.
The affirmations should be a repeated phrase, right to the point and precise.

4. Like any other incendiary, the fire form will burn with the larger fire it creates.
You should order the elemental to dissolve with the fire it creates, ending the mission.


5. Name your thoughtform and say this name several times.

6. Breathe in and then blow out with force, sending the ball on its way.

7. Forget about the thoughtform and working. Let it do its job.

The uses for the fire thoughtform are obviously to set something a blaze.
I have found when using fire magick, one glows with a warm aura or feels heat when the directed energy or entity is doing its job.
The fire ball can be directed into the body of an enemy when working black magick.
These methods were used by 1920's, and 1930's Satanic Lodges in Germany and used to eliminate enemies in the form of a psychic sacrifice.
If the victim is not adept with fire, his/her blood will literally boil.
The end result will be a heart attack- death from natural causes.

© Copyright 2005, Joy of Satan Ministries; Library of Congress Number: 12-16457
ABOUT THE AUTHOR
Coco.
Coco. has been a member of the site for 14 years, since Jun 27, 2009
Comments
Comments are open to
members
.
Join today
and be part of the largest pagan / new age community online.
I walk a fine line with this. This is a way to make a thought form or servitor, but it is not physical, so do not expect to see an actual ball of fire in your hands, and you can give a servitor a task like ''burn enemies'' I doubt the effectiveness like how this claims the victims blood could literally boil. That said, I have no doubt you could have this servitor start a fire in a home, I would just hope you would be wise enough not to if you were skilled enough to make one of that ability.
Tadashi you pretty good I agree with you too
---
---
Is this content used without proper permission?
Please report any violations of copyright via our contact page.
---
*
All information on this page is provided by the coven or person named and the contents of this page is not mediated by the administrators of the website. Please use common sense when following any directions on this page. Do not ingest anything which does not seem safe. If you suspect the content of this page to be intentionally deceiving please
contact us
immediately.