Wonderland Spell
Rated 5/5 Stars

This is a spell that could take you to your own personal wonderland... I've yet to test it but it's worth the shot, because when you truly believe in magic you can accomplish most anything.
Casting Instructions for 'Wonderland Spell'
You will need the following items for this spell:
Paper

Coloring Supplies

True Belief in Magic

Imagination

Voice

Knowledge of Alice in Wonderland

Pencil

Dreams
1). Imagine every person, place, and thing you will come across in Wonderland.
2). Draw each on a separate sheet of paper( loose leaf or notebook), and color each in.
3). With every sheet include a:
Name
Drawing
Description
4). Write a story including you, the people, places, and thing you found, how you got to Wonderland, what you did, and how you got home.
5). Roll up the story and character sheets and bound it with string or a rubber band.
6). Keep this scroll under your pillow and chant for one night:
In a world of my own, I can be most anyone...
Instead of being lonely, I talk to _______.
There is/are one_______ every year, but there is/are 354 _______ a year.
I can call this place home... In a world of my own, where I can be most anyone.
When I'm in Wonderland, seconds in the real world are hours in wonderland.
Anything brought out of Wonderland will look like it came from this world, and visa versa.
I CANNOT DIE IN WONDERLAND NOR WILL I OR ANYONE OR ANYTHING BE HURT OR INJURED. NO ONE IN WONDERLAND WILL ATTEMT TO HURT ANYBODY. What I write in my story is not relevant, I may do any activity written in my story in any order and i can stay as long as I want, any time. How I get there and leave is the only thing that happens exactly as I write it. Everyone/thing speaks english. Nothing in Wonderland exists unless I write about it. I may add people places and things at any time. My Wonderland does not collide with anyone else's. Nobody may enter my Wonderland unless I willingly bring them to my domain.
7). Add any other details to the chant that you think are important.
8). This spell works best if you try to dream about your trip, or make your entrance/exit realistic
* This Is The First Spell I've Posted So Thank You So Much For Reading I Wish You Luck And Good Intensions!*






FEATURED ITEM
Secret Desire Fulfilled
Ritual Kit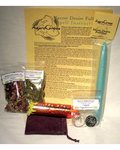 VIEW ALL RITUAL KITS
SpellsOfMagic has a huge online store, supplying you with any and all your occult and new age needs.
ABOUT THE AUTHOR
DarkKawaii
DarkKawaii has been a member of the site for 6 years, since Feb 28, 2015
Comments
Comments are open to
members
.
Join today
and be part of the largest pagan / new age community online.
No. Just cause you believe don't mean it works. I believe two plus one is 100 see not possible.
Have you at least tried? Besides they didn't say they can accomplish anything. They said most meaning some stuff is not possible.
people believe the earth is flat, but it doesn't make it true. you cannot contradict nature with magick on the physical plane. it's just a fact of magick. if this is a meditation or you are doing an astral projection and shaping a world similar to wonderland on the astral or other plane of existence, then it could be possible, but physically going there, no.
You guys do realize this is a DREAM spell, right? It's got nothing to do with the physical realm, so who knows? Maybe it actually IS possible!
That wasn't made clear. Since I did notice a few mentions of dreams, this could be used to create a space in the astral realm for yourself, or as a very detailed guide for a dream. It won't create a separate reality. Also, please watch the caps, you can get gagged if you abuse them.
True, if this person is referring to astral projection or some form of non-physical wonderland, it could be possible. It's when people claim you can physically enter a fantasy realm they enter impossible territory.
---
---
Is this content used without proper permission?
Please report any violations of copyright via our contact page.
---
*
All information on this page is provided by the coven or person named and the contents of this page is not mediated by the administrators of the website. Please use common sense when following any directions on this page. Do not ingest anything which does not seem safe. If you suspect the content of this page to be intentionally deceiving please
contact us
immediately.