A Blot to Thor
Rated 5/5 Stars

(Adapted from RITUALS OF ASATRU; Volume One--Major Blots, and Volume Two--Seasonal Festivals, by Stephen A. McNallen; published by World Tree Publications, Copyright 1990)

You will need the following items for this spell:
NOTE: A STALLI IS AN ALTAR.

NOTE: RECELS ARE HERBS/INCENSE

On the altar should be hammer, horn, vessel of mead, bolli, teinn, and recels-pot with ''Thor'' and ''Hallowing'' recels. Yule log, with three unlit candles and dressed with holly, evergreen, and ivy should also be on stalli, as well as a single lit candle.
Casting Instructions for 'A Blot to Thor'
FEATURED ITEM
Attract Soulmate
Ritual Kit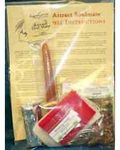 VIEW ALL RITUAL KITS
SpellsOfMagic has a huge online store, supplying you with any and all your occult and new age needs.
THIS SPELL IS NOT BY ME. CREDIT IS GIVEN IN THE SPELL SUMMARY

HALLOWING: Godi should charge ''Hallowing'' recels with the Elhaz Rune , and cleanse the hof. Then he should Hammer-Sign the ''Thor'' recels, and burn it throughout the ritual. Godi then will take up hammer and, starting in the north, turn to each quarter sunwise and say:

''HAMARR, HELGA VE THETTA OK HINDRA ALLA ILLSKA!''

Godi then returns to stalli and holds hammer high:

''I HALLOW AND MAKE HOLY TO THE SERVICE OF THOR THIS STALLI AND HOF, BANISHING ALL INFLUENCES UNHOLY OR IMPURE. MAY OUR MINDS, IN THIS HOLY PLACE, LIKEWISE BE HALLOWED, AS IS OUR WILL, TO THE JUST SERVICE OF THOR. AS THE GOD HEIMDALL GUARDS BIFROST BRIDGE, MAY THIS HOF BE WARDED AGAINST ALL WIGHTS BANEFUL TO OUR WORK HERE TONIGHT.''

INVOCATION: Godi places hammer back on stalli, stands in Elhaz-Stodhur:

''THOR, WE HEAR YOUR MIGHT IN THE BOOMING CRASH OF THE THUNDER, AND SEE YOUR POWER IN THE BLAZING BOLT OF LIGHTNING. WE SENSE YOUR PRESENCE IN THE GROWING FIELDS WHICH SUSTAIN US. YOU WARD MIDGARD WITH YOUR GREAT HAMMER MJOLLNIR, AND YOUR RAINS BRING FERTILITY TO ALL THE EARTH. WITH YOUR HAMMER, YOUR GAUNTLETS, AND YOUR BELT OF STRENGTH, YOU HAVE BEEN A LOYAL FRIEND TO OUR FOLK, AND OUR CHAMPION AGAINST THOSE WHO WOULD ENSLAVE OUR BODIES, MINDS, OR SOULS. HEAR US, RED-BEARDED FRIEND, AS WE CALL TO YOU AS IN DAYS OF OLD--''

As godi calls each kenning, the gathered folk will respond:

Godi: ''THUNOR!''

Folk: ''WE MAKE YOU WELCOME!''

Godi: SON OF JORD AND ODIN!

Folk: ''WE MAKE YOU WELCOME!''

Godi: SMITER OF HRUNGNIR!

Folk: ''WE MAKE YOU WELCOME!''

Godi: FOE OF THE MIDGARD SERPENT!

Folk: ''WE MAKE YOU WELCOME!''

Godi: ''GIANT-SLAYER!''

Folk: ''WE MAKE YOU WELCOME!''

Godi: ''ASGARD'S HERO!''

Folk: ''WE MAKE YOU WELCOME!''

Godi: ''HAMMER-GOD!''

Folk: ''WE MAKE YOU WELCOME!''

Godi: ''FRIEND TO MANKIND!''

Folk: ''WE MAKE YOU WELCOME!''

Godi: ''ASA-THOR!''

Folk: ''WE MAKE YOU WELCOME!''

Godi then continues:

''YOUR HAMMER HALLOWED BALDER'S FUNERAL PYRE, AND RISE AGAIN HE WILL! GOD OF MIGHT AND COURAGE AND GOODNESS, FRIEND TO ALL WHO TILL THE FIELDS, FIGHT TO PROTECT FAMILY AND FOLK, AND STAND FREE AND PROUD! BE WITH US ON THIS LONGEST OF NIGHTS, THOR, AND JOIN US IN OUR RITES!''

YULE RITE: Each participant should take up their candle. The godi picks up the single lit candle, makes Hammer-Sign over it, and lights the candles on the Yule log:

''ONCE AGAIN, HAMMER-GOD, YOUR MIGHT HAS BROKEN THE THREAT OF THE DARKNESS, AND THE REBIRTH OF THE SUN FORETELLS THE WARMTH AND GOODNESS OF THE SUMMER TO COME. IN HONOR OF YOUR MIGHT AND THE RETURN OF THE SUN'S BLESSED WARMTH DO WE KINDLE THIS FLAME. AS THIS LIGHT GROWS AND STRENGTHENS, SO TOO MAY THE SUN'S LIGHT GROW AND BE STRONG.''

Each of the folk should step up to the Yule log and light their can-dle from its candles. When all candles are lit, everyone should meditate on the growing light. After this time, the candles should be set down around the hof to light the rest of the blot.

OFFERING: Godi will fill the horn from the vessel of mead:

''THOR, MIGHTY THUNDERER! IN TIMES LONG PAST, OUR ANCESTORS GATHERED TO MAKE OFFERINGS IN THE HOLY GROVES, JUST AS WE GATHER HERE TONIGHT AND OFFER YOU SACRIFICE! NOT OF BLOOD, BUT THE FREE GIVING OF OUR HUMAN EFFORTS, OUR STRUGGLE, AND OUR DEVOTION! MAY IT AID US, GODS AND HUMANKIND ALIKE, IN OUR STRUGGLE AGAINST THOSE WHO WOULD WAR AGAINST ASGARD, OR SEEK TO SET GREY SLAVERY IN MIDGARD.''

Godi raises filled horn high and offers it:

''THOR, ACCEPT OUR GIFTS; NOT AS FROM SLAVES, FOR WE HAVE NO MASTER, NOR AS AN APPEASEMENT, FOR WE STAND IN GOOD STEAD WITH YOU, BUT AS A SIGN OF OUR KINSHIP AND FELLOWSHIP!''

When godi feels offering has been accepted, he will pour a small amount into offering bowl, then set horn back on stalli.

LOADING: Godi makes Hammer-Sign over horn:

''THOR, YOU HAVE RECEIVED OUR SACRIFICE, AS SYMBOLIZED BY THE MEAD IN THIS HORN. POUR NOW INTO IT YOUR POWER AND BLESSINGS, MAKING IT FOR US A TRUE DRAUGHT OF MIGHT AND MAIN, THAT WE MAY GROW CLOSER TO YOU AND TO EACH OTHER BY SHARING IT AMONG US.''

BLESSING: When godi feels mead is charged, godi will place teinn into blessing bowl and pour a small amount of charged mead over it into bowl. Godi uses teinn to sprinkle stalli, then turns and sprinkles the folk:

''I GIVE YOU THE BLESSING OF THOR!''

DRINKING: Godi sets bowl back onto stalli. He picks up horn, takes a small sip, then offers a drink to each of the folk:

''(NAME), THOR'S BLESSING.''

As each person takes a sip, they may, if they wish, offer a toast to Thor. Godi then returns to stalli, takes a final sip, and sets horn down

CLOSING: After a short moment of silence, godi speaks:

''THIS BLOT IS DONE! MAY IT STRENGTHEN US IN OUR DEVOTION TO THE GODS OF OUR ANCESTORS, AND RENEW IN OUR HEARTS OUR DETERMINATION TO LIVE AS WORTHY SISTERS AND BROTHERS OF THOR. MAY WE GO FORTH FROM HERE TONIGHT WITH ALL THE GREATER RESOLVE TO LIVE FREE AND TRUE--WITH COURAGE, TRUSTING IN OUR STRENGTH, AND HONORING THE BONDS OF KINSHIP, UNTIL WE BE GATHERED TO THE GODS.''

Godi then faces north, standing in Elhaz-Stodhur:

''MIGHTY THOR, WE THANK YOU FOR YOUR PRESENCE WITH US HERE TONIGHT. AS YOU WEND TO ASGARD, CARRY WITH YOU THE THOUGHTS AND PRAYERS OF YOUR SISTERS AND BROTHERS WHO DWELL IN MIDGARD. PRAISE TO YOU, ASA-THOR, AND FAREWELL!''

Godi takes up hammer and salutes each quarter:

''HAIL THOR! FAREWELL!''

Afterwards, the folk should celebrate with food, song, and good fellowship.

ABOUT THE AUTHOR
Finalaccnt2
Finalaccnt2 has been a member of the site for 10 years, since Jun 17, 2012
Comments
Comments are open to
members
.
Join today
and be part of the largest pagan / new age community online.
There are no comments for this article
---
---
Is this content used without proper permission?
Please report any violations of copyright via our contact page.
---
*
All information on this page is provided by the coven or person named and the contents of this page is not mediated by the administrators of the website. Please use common sense when following any directions on this page. Do not ingest anything which does not seem safe. If you suspect the content of this page to be intentionally deceiving please
contact us
immediately.