The Great Compassionate Mantra
Rated 1/5 Stars

This mantra is to not only bring success into your life, but it will grant you mercy from the Bodhisattvas and ensure you into Nirvana or whatever you want to be reborn as.

You will need the following items for this spell:
None Apart from having a kind and compassionate heart.
Casting Instructions for 'The Great Compassionate Mantra'
FEATURED ITEM
Secret Desire Fulfilled
Ritual Kit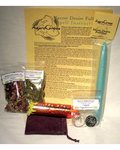 VIEW ALL RITUAL KITS
SpellsOfMagic has a huge online store, supplying you with any and all your occult and new age needs.
Chant with great amount of mercy, compassion, and kindness:
O Namo Ratna Trayya Nama rya Avalokitevaraya Boddhisattvya Mahsattvya Mahkruikya Sarva Bandhana Chedana Karaya. Sarva Bhava Samudram sosana karana. Sarva Vyadhi Prasamana Karaya. Sarva Mrtyu Upa-drava Viansana Karana. Sarva Bhaye Su Trana Karaya. Yasmat Namas – ktva Idam Arya Avalokitevaraya Bhastinam Nlakaha Pi Nama Hdayam Vartayisymi Sarvrtha-sdhanam ubham Ajeyam Sarva-bhtnm Bhava-mrga-viodhakam Tadyath, O Aloke Aloka-mati Loktikrnta. He Hare Arya Avalokitevara Mah Boddhisattv, He Boddhisattv, He Mah Boddhisattv, He virya Boddhisattv He Mahkruik Smara Hdayam. Hi Hi, Hare arya Avalokitevara Mahesvara Parama Maitra-citta Mahkruikya. Kuru Kuru Karman Sadhaya Sadhaya Vidyam. Ni Hi, Ni Hi Varnam Kamam-game. Vitta-kama Vigama. Siddha Yogesvara. Dhuru Dhuru Viryanti, Maha Viryanti. Dhara Dhara Dharendresvara. Kala Kala Vimala Amala Murte rya Avalokitevara Jina Ka Jata-makutavalam Ma Pra-lamba Maha Siddha Vidya Dhara. Vara Vara Maha Vara. Bala Bala Maha Bala. Kala Kala Maha Kala Ka-varna Nigha Ka – paksa Nirghatana. He Padma-hasta Cara Cara Desa Caresvara Ka – sarpa Kta Yajnopavita Ehyehi Maha Varaha-mukha, Tripura dhanesvara Narayana Va Rupa Vara Marga Ari. He Nlakaha, He Mahakara, Hala Hala Visa Nir-jita Lokasya. Raga Visa Vinasana. Dvesa Visa Vinasana. Moha Visa Vinasana huru Huru Mala, Huru Huru Hare, Maha Padmanabha Sara Sara, Siri Siri, Suru Suru, Bucruc Bucruc, Bodhiya Bodhiya, Bodhaya Bodhaya Maitri Nlakaha Ehyehi Vama Shitha Simha-mukh Hasa Hasa, Munca Munca Mahattahasam Ehiyehi Pa Mah Siddh Yogevar Bhana Bhana Vaco Sadhaya Sadhaya Vidyam. Smara Smaratam Bhagavantam Lokita Vilokitam Lokesvaram Tathagatam Dadahi Me Drasana Kamasya Darsanam Pra-hia Daya Mana Svh. Siddhaya Svh. Maha Siddhya svh. Siddha Yogesvaraya Svh. Nlakahaya svh. Varaha-mukhaya svh. Maha-dara Simha-mukhaya Svh. Siddha Vidyadharaya Svh. Padma-hastaya Svh. Ka-sarpa Kta Yajno Pavitaya Svh. Maha Lakuta Daharaya Svh. Cakra Yuddhaya Svh. Sankha-sabdani Bodhanaya Svh. Vama Skandha Desa Sittha Ka Jinaya Svh. Vyaghra-Carma Nivasa Naya Svh. Lokesvaraya Svh. Sarva Siddhesvaraya Svh. Namo Bhagavate rya Avalokitevaraya Boddhisattvya Mahsattvya Mahkruikya. Sidhyanthu Me Mantra-padya Svh. That was the Sanskrit version which is the original version. You could also chant the Chinese version which goes: N mo h l d n du l y y n mo a l y w l ji d shu b l y p t s du w y m h s du w y m h ji l n ji y n s b l f y sh da n d xi n mo x j l du y mng a l y w l ji d sh f l lng tu w n mo n l jn ch x l m h b du sh mi s w a t du sh png a sh yn s w s du n m w s du n m w ji m f t du d zh t n a w l x l ji d ji lu d y x l m h p t s du s w s w m l m l m x m x l tu yn j l j l ji mng d l d l f sh y d m h f sh y d tu l tu l d l n sh f l y zh l zh l m m f m l m d l y x y x sh n sh n a l shn f l sh l f sh f shn f l sh y h l h l m l h l h l x l su l su l x l x l s l s l p t y p t y p tu y p tu y m d l y n l jn ch d l s n n b y m n su w h x tu y su w h m h x tu y su w h x tu y yi sh b l y su w h n l jn ch su w h m l n l su w h x l sng a m q y su w h su w m h a x tu y su w h zh j l a x tu y su w h b tu m ji x tu y su w h n l jn ch b qi l y su w h m w l shng ji l y su w h n mo h l d n du l y y n mo a l y w l j d shu b l y su w h n x din d mn du l b tu y su w h.
---
---
Is this content used without proper permission?
Please report any violations of copyright via our contact page.
---
*
All information on this page is provided by the coven or person named and the contents of this page is not mediated by the administrators of the website. Please use common sense when following any directions on this page. Do not ingest anything which does not seem safe. If you suspect the content of this page to be intentionally deceiving please
contact us
immediately.