Honey Jar (Love)
Rated 5/5 Stars

This spell is a hoodoo bottle spell designed to sweeten a person to you. This one if for love, but it can be altered, to make it a friendship jar, money jar, etc.

You will need the following items for this spell:
Honey

A jar with a metal lid

Love herbs of your choosing

Parchment or paper

Red ink pen

Pictures of you and your intended (Optional)

Personal concerns of both you and your intended (Hair, nail clippings, saliva, sexual fluids, or even menstrual blood)

Love oil

Red, pink and white chime candles
Casting Instructions for 'Honey Jar (Love)'
FEATURED ITEM
Attract Lover ritual kit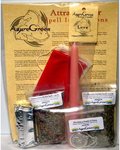 VIEW ALL RITUAL KITS
SpellsOfMagic has a huge online store, supplying you with any and all your occult and new age needs.
Firstly, get your jar. When working with honey, you should always taste it, to make sure it is fine. While eating it, you can say ''As this honey is sweet to me, so I will become sweet to [name of your intended]''. If the jar already has honey in it, that's fine, just take some of it out and into a bowl or something, then set it aside for now, just so you have enough room in your jar to put in everything. If not get the empty jar and pour in some honey, but not filling it. Make sure the jar is glass with a metal lid or it will melt and ruin your honey jar. Once you've the jar partially filled, it is now is the time to start your paper of intent. Get your parchment or paper and with a red ink pen, since you want love, you will write down your intended's full name three times. For example:

John Russell Brown
John Russell Brown
John Russell Brown

Then rotate the paper 90 degrees clockwise and write your own name across the person's name, also three times:

Abigail Samantha Little
Abigail Samantha Little
Abigail Samantha Little

The result will be that the two names are crossed over each other, like a cross or a tic-tac-toe grid, and the other person's name will be under yours. This is called crossing and covering their name. Now all around the crossed names, write your specific wish in a circle. If you need a guideline, lightly sketch the circle-shape with a pencil and then follow around it when writing with your ink pen. You must write your wish in one continuous run of script letters, with no spaces - AND WITHOUT LIFTING YOUR PEN FROM THE PAPER. Do not cross your t's or dot your i's. Just write the words in one run and be sure to join up the end of the last word with the beginning of the first word so the circle is complete. Then you can go back and cross your t's and dot your i's. To make it easy to connect the word together at the end, I have found it best to make my petition in the form of short commands, such as ''help me favour me help me favour me'' or ''love me love me love me'' or ''forgive me come back forgive me come back.''

If you make a mistake, for instance, if you lift your pen in the middle of writing your petition-circle, throw away the paper and start it all over again. You want it to be perfect. Once your petition paper is done, you want to fold it towards so, so as to bring love towards you. Fold it 3 times, then put it in. If you want to put pictures in, place them, so the picture sides are facing each other, fold them 3 times towards you, and put them in. If you want, this isn't nessecary, but you can write the name and date of birth of the person in the picture on the back, if you want. Pictures can be a substitute if you can't get personal concerns, but it won't be anywhere nearly as successful, than if you use personal concerns, so try to get them if you can. Now that you have that sorted, you can add in your herbs and personal concerns.

When you have everything in the jar, fill up the rest of the jar with honey, or put back the honey you took out, then close it. Now, get one of your candles, you can use red, pink and white, since red and pink are for love and white is multi-purpose. You will want to anoint them with love oil. Take a candle and use a love oil like Adam and Eve oil, Fires of Love oil, Reconciliation love oil, Return to Me oil etc., depending on what you hope to achieve from the jar, and anoint the candle. Once you have done that, you will want to melt the bottom a little bit, then stick it to the lid of your jar, so it won't move.

Once it is stuck on, light the candle and pray over your honey jar. The key is to focus your intent, your wish/desire as you pray on the jar. And talk to the candle that you burn on the jar top. Yes, talk. Speak as if you are talking with the person you got in that jar. Always speak sweetly, in a caring way, saying what you'd like them to do. For example:

''[name of person] be loving to me, and you think sweetly of me, oh my darling come to me''.

You can even burn incense while doing this, until the candle complete burns out. If there is any wax left over, just leave it, don't pick it off, let it build up. Once the candles has burnt out, very gently shake the jar, to help liven up the jar. Do this every day for the first week, then you can cut it down to 3 times a week. Normally people do this on Monday, Wednesday and Friday, but I do them any 3 days I'm free and it works fine for me. But don't obsess over it, or it could stop the spell from working. Also don't doubt the spell, it is a slow spell, but the results are always worth the wait, if done correctly.
ABOUT THE AUTHOR
Aedah
Aedah has been a member of the site for 10 years, since Feb 04, 2013
Comments
Comments are open to
members
.
Join today
and be part of the largest pagan / new age community online.
There are no comments for this article
---
---
Is this content used without proper permission?
Please report any violations of copyright via our contact page.
---
*
All information on this page is provided by the coven or person named and the contents of this page is not mediated by the administrators of the website. Please use common sense when following any directions on this page. Do not ingest anything which does not seem safe. If you suspect the content of this page to be intentionally deceiving please
contact us
immediately.