Create a servitor/minion
Rated 5/5 Stars

This spell will create a minion
Casting Instructions for 'Create a servitor/minion'
You will need the following items for this spell:
First, you must draw or if you are not such a good drawer you can search for some pictures to copy from,and give it a name. Then, chant this while focusing your power(Energy) into the picture to create it:

(_____=name)
I make a form, I make a name, For my minion, who shall be the same. (He/She/It) shall perform (his/her/its) destiny, For in truth (he's/she's/it's) a part of me. (He/She/It) shall by my minion, For my dreams are (his/her/its) only food. A minion of (light/darkness) you shall be. Your name is ______, SO MOTE IT BE!

Now to summon it, chant this and imagine your minion pulling itself out of your back:

__name___, ___name___, appear before me. I am your master, SO MOTE IT BE!

Don't worry if it doesn't look good, minions can shapeshift. Also, your drawing will be an actual size(it grows as it ages and feeds) version. Yes, it DOES have a gender, or if you choose not, it's an ''it''. A minion will do whatever you want, and it will do better things as it grows. If it's light or dark depends on what you are. It ''sleeps'' when dismissed and ''feeds'' on your dreams. It IS alive. If it's light, it grows stronger on goods dreams. If it's dark, vice versa. Only you can see your minion. You must charge it by placing the picture in a light/dark place, then going to sleep to feed it. Then, when you feel it's well rested, try summoning it. Remember, minions can do anything once full size(About 6 feet tall if humanoid and on a normal piece of paper.) Dismissing your minion:

Enter, __name___, enter me. It's time for your rest, SO MOTE IT BE!

Remember to do this with a strong commanding voice and if your minion dosent show up,cast it over and over again.But remember to take a rest or your energy will exhaust.Remember that these minions feed on energy,so you should always do a (draw in energy) meditations,to keep the energy balanced.

AND NO,THIS SPELL IS NOT fAKE,ITS REAL,IT ONLY NEEDS LOTS Of PRACTICE.(Practice makes perfect) remember this and you will never fail in magic.
FEATURED ITEM
Get What You Want
Ritual Kit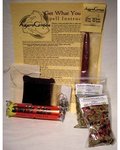 VIEW ALL RITUAL KITS
SpellsOfMagic has a huge online store, supplying you with any and all your occult and new age needs.
ABOUT THE AUTHOR
wizardX
wizardX has been a member of the site for 12 years, since Oct 04, 2010
Comments
Comments are open to
members
.
Join today
and be part of the largest pagan / new age community online.
Does this work
99% sure that it doesn't.
How long will it take to grow to full size?
As outlined, this does not work. I know, that all caps declaration at the bottom seems rather convincing, but the outline of this spell is flawed. This spell claims to create a servitor/minion/thoughtform/egregor/energy being but it rushes past the key competent of their creation. These are beings you create by manipulating your energy into the shape of the creature you desire. Make a psi ball, shape the psi ball, imagine and feel the energy you have shaped coming to life. Imagine it moving around the room. Feel it move around you. Each type of energy being have its own way to create it. This is a basic thoughtform. Think about when you had an imaginary friend. Thoughtforms are the same way. They feed on your energy. Every day, make a psi ball and give it to the thoughtform. This will sustain it. Servitors are for tasks. You create one, tell it you need something, and it vanishes once the task is complete. Regarding the chant, it is not a chant. Saying ''I want a purple monkey, its a boy, and we're friends'' is not a chant. That is a statement. A chant is a set of words you repeat to help charge, direct, and program Magikal energy. Overall, a fine attempt, but it needs an edit.
---
---
Is this content used without proper permission?
Please report any violations of copyright via our contact page.
---
*
All information on this page is provided by the coven or person named and the contents of this page is not mediated by the administrators of the website. Please use common sense when following any directions on this page. Do not ingest anything which does not seem safe. If you suspect the content of this page to be intentionally deceiving please
contact us
immediately.