Emotional Improvement
Rated 5/5 Stars

A spell to improve your emotional well being, for when your depressed for example.
Casting Instructions for 'Emotional Improvement'
You will need the following items for this spell:
Candle-Red

Stone(s) to amplify energies-Red Jasper, Hematite and Quartz point to amplify energies greatly.

Herb(s)-Pepper (Regular)

Parchment Paper or Regular paper
Meditate so you can form energy, because all spells need your own energy because otherwise they won't work as well as you may think or even may not work at all.
Cast the Circle and Call the Elements and invoke your chosen Deity that corresponds with Happiness or Joy. As said previously if you have not chosen a Pantheon yet then invoke Hathor. Now, get your candle (red) and hold it in your hands and visualize the energy that you gathered from meditation going into the candle, then when your done with that dress the candle with the herb you must dress the herb up the candle because that symbolizes bringing something in(pepper).
Light the candle and visualize within the flame that your goal is complete, so you would visualize yourself happy, then get your piece of paper and write what you want the invoked deity to do for you. Then what you want to do is fold the paper toward you, then turn it clockwise and fold it toward you again. What you need to do then is burn the piece of paper while chanting. Underneath if you have not chosen a pantheon I will put the invocation of Hathor, then chant:

"Great goddess, Hathor.
I ask that you bring
Your presence to this room.
Upon this night,
Help me with my magic
Fulfill my intention
Offerings I will leave to you.
All I ask is your help
So mote it be"

Then chant:
"Upon this blessed night
With Goddess Hathor's might
Great Goddess, hear my plea
Courage from you is what I seek.
Expel emotion and negativity
Fill me with confidence, pride,
Happiness
This is my plea
So mote it be"

Leave an offering to Hathor after the spell has worked okay, if you don't have anything suitable as an offering then simply write on a piece of paper:

"Thank you Goddess Hathor for helping me
with my spell".
Then burn the paper in a candle, fire or whatever so that your messaged will be sent to the heavens.
FEATURED ITEM
Attract Soulmate
Ritual Kit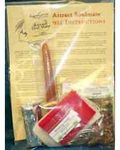 VIEW ALL RITUAL KITS
SpellsOfMagic has a huge online store, supplying you with any and all your occult and new age needs.
ABOUT THE AUTHOR
FoolsGold
FoolsGold has been a member of the site for 8 years, since Jul 25, 2013
Comments
Comments are open to
members
.
Join today
and be part of the largest pagan / new age community online.
Hathor is a wise choice for this spell, but if you've never worked with her it's like walking up to a stranger and asking for help. there's a high chance they'll ignore you. Hathor is pretty friendly, so if you're nice she'll probably assist you, but i would defiantly get her an offering instead of just a thank you card [rose, cow figures, myrtle, mirrors, sweet/floral incense or perfume, beauty products, red, or turquoise colours, gold]
Question , do u know by any chance if u can mix gods or goddesses from diffrent mythologies ? It sounds weird but here me out . You know how people can work with multiple gods or goddesses , right ? Well my question is , can u work with a god from two diffrent mythologys ( for example , can u work with both Aphrodite who is ( as u know ) from greek mythology and Hathor ( as u also know ) is from Egyptian mythology ?
Absolutely. I work with deities from different pantheons all the time [my main three are Celtic, Germanic and Egyptian] You might want to consider if the deities are from cultures that were usually at war with each other or have different temperaments as this has been an issue for some people, but there's no rule saying you can't. I would have their own specific ritual space [granted, if they all get along, you could have one large altar, but I would keep offerings separate] I would also work with one at a time at the beginning instead of calling on seven at once [in the future, you could work with seven or more, but it's like making a new friend. Better one on one instead of getting to know a bunch of people at once] and don't dedicate yourself to a deity until down the line you have a connection. Dedication's are like marriage, don't assume you've met the one after your second date. [of the three I work with, I'm only dedicated to one. I've worked with her on and off since I was 17, the other two I've worked with one for seven years and the other five]
---
---
Is this content used without proper permission?
Please report any violations of copyright via our contact page.
---
*
All information on this page is provided by the coven or person named and the contents of this page is not mediated by the administrators of the website. Please use common sense when following any directions on this page. Do not ingest anything which does not seem safe. If you suspect the content of this page to be intentionally deceiving please
contact us
immediately.