Search Results for
"full moon"
Only publically available pages are indexed in the search. Coven files which have been set to private, your emails, and other personal information can not be found with the search.
Search Results for full moon
Query took 0.067 seconds
1063 total matches
Recommended for you
Wing Spell - Free Magic Spell
Spells
...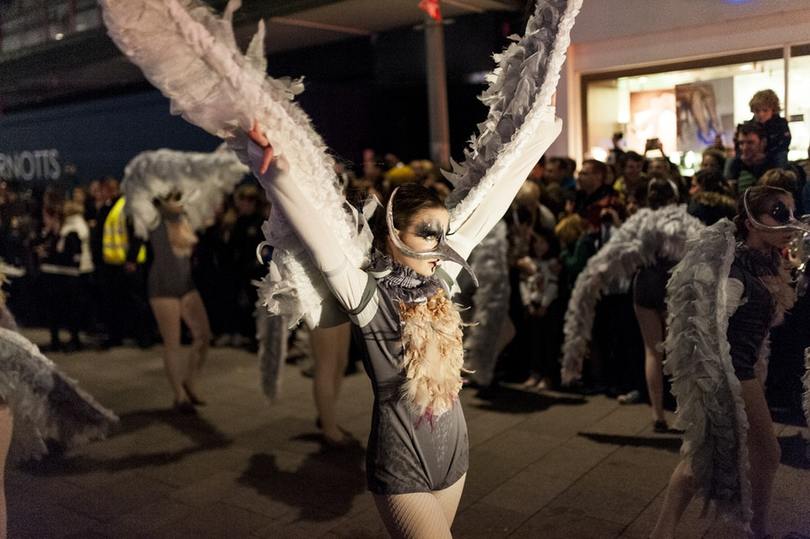 This spell will give you wings. Step 1 - Go outside on a full moon. Step 2 - Make sure it's really windy. Step 3 - Pour the lotion on the feather. Step 4 - Say the spell: God, please let me have wings. I will fly high in the sky...
Charging an Amulet - Free Magic Spell
Spells
...IMPORTANT: This MUST be done during the full moon! This is the ritual I use whenever I need to both cleanse and charge a necklace or amulet. Put the salt in the glass--it doesnt nessisarily have to be leveled out, just on the bottom of it. Pour the water into the...
Let Me Sleep - Free Magic Spell
Spells
... I wrote this spell when I kept having haunting dreams. Written by BlackStar13. Sit cross-legged in the middle of your bedroom. Get the two candles (if you have them), light them and place one in front of you, and one behind you. Begin to meditate, breathing deeply through your nose and...
Easy Healing - Free Magic Spell
Spells
...This spell is strongest at helping to heal some minor wounds during a full moon. Lght both your candle then close your eyes and imagine yourself. Make the wound you want to heal the most visible. I you have the crystal imagine it floating in front of the wound. As it...
A tested and Working Vampire Spell
Spells
...This spell has been tested by 6 people and it works every time. Or so far at least. Any complaints, message me. Fluff haters will be blocked. Goddess Nyx, Hear my cry. Make me a child of Night. A vampyre is what I wish to be. Grant this wish, Nyx, so...
Gain Power - Free Magic Spell
Spells
... You will gain just 50% power of Wizards. First form a star pattern then at the Edges of the Star Pattern Put the candles and Light it Clean all your minds and meditate for you to have a peaceful mind and chant this: Oh Gods and Goddesses Gods of Wizards Witches...
Embrace the Shadows - Free Magic Spell
Spells
...Get in touch with your darker side with this night ritual, performed on the night of a new moon On the night of a new moon the sky is dark, and the perfect time to tap into your darker energies. Light the candle, but place it as far away from you...
Werewolf - Free Magic Spell
Spells
... Do this werewolf potion- spell under the full moon Get the blood and hair of a wolf and also your own blood and hair. Then mix it with some water in a glass - cup and stir under the full moon then once mixed-stirred drink it up. this werewolf potion- spell...
Wolf Man - Free Magic Spell
Spells
... Turns you into a were wolf on a full moon. Go outside at night time. It must be clear and the moon MUST be visible. Nothing can cover it. It does NOT have to be a full moon but if it is, its more powerful. Overall, any moonphase will work. You...
Returning a Hex - Free Magic Spell
Spells
... This spell should be performed during the full moon, near a window, preferably one facing the home of the person who hexed you, if you know who they are. Light the three candles, which should be placed in a triangle so that one is on either side of the mirror, and...
Wolf Transformation - Free Magic Spell
Spells
...I haven't tested this spell, it is the first one I have made and planning to test it when I have the time. Email me if worked, or have any questions. You can say this repeatedly if felt in need to or want. Sit in a comfortable position, if you want...
A werewolf - Free Magic Spell
Spells
... Turn into a werewolf (Only do this under a full moon). Have the five black candles behind you, and the white candles in front of you. Say ''a wolf is a god! I say I Want to be a wolf!'' Put all the candles out with the blood. If you did...
Protection Spell - Free Magic Spell
Spells
... Protects you from others power. On a full moon, at midnight, go out in the full moon and let it bathe you in its light. Then, lift your head and look up at the moon while chanting... ''Moon, Moon, I call upon you to protect me, From thee, And give me...
Get Powers - Free Magic Spell
Spells
... You have to just write the power and you will get the power next day. Write your power on the leaf but it should be little big. Keep the leaf under the candle on the table in the full moon light and burn the candle than say: From the element of...
Dragon Wisdom - Free Magic Spell
Spells
... Gives wisdom, better insight, focus. To be done on a Wednesday that is closer to the full moon. Cast Circle. Inscribe the purple candle with a Dragon's Eye, then dress it with the lavender oil. Light the purple candle and say: ''Let this flame Open my third eye To be wise...