Thoth Tarot (Small Purple) Deck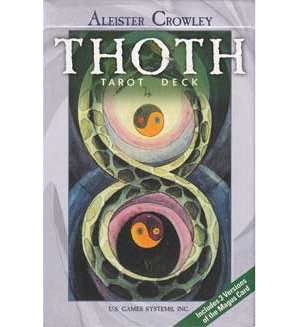 WEIGHT:

0.6 lbs


AUTHOR: Aleister Ziegler
PUBLISHER: U S Games Systems
DATE: 1998


ISBN: 9780880793087



SKU:

DTHOSMA
Description
Over 70 years ago Aleister Crowley developed this Tarot deck that reimagines the traditional Rider-Waite deck. He named it the Thoth Tarot Deck which adheres to Crowley's own philosophies as well as other occult aspects such as alchemy, the Kabbalah, and astrology. Artist Lady Frieda Harris, an associate of Crowley created the imagines found on each of these magnificent cards. This is a deck of 80 cards containing 24 reinterpretations of the major arcana and 56 of the minor arcana, including 3 versions of the Magus card. Box measures 7 and 1/4 inches by 4 and 5/8 inches by 1 inch while the deck itself measures 2 and 7/8 inches by 4 and 3/8 inches.

Similar Items:
Thoth Tarot (Small Purple) Deck Reviews:
Rated
5
out of 5 from
1
reviews.
---
Only tarot deck I've ever needed or wanted. The level of symbolism in each card is positively staggering, and can lead to a very interesting divinatory experience in which certain symbolic aspects catch your attention more than others, almost as if the card is suggesting which interpretation it's trying to convey. A few of the cards have different names, the World card being updated to the Universe card for example, but the deck is otherwise pretty standard in that sense. The sheer amount of symbolism, as well as its sometimes unique meaning, can require that you study this particular deck in order to understand it properly. I personally suggest Tryskelion.com (http://www.tryskelion.com/tryskelion/tarotintro.htm) to aid in this.