Saturn Seal of Protection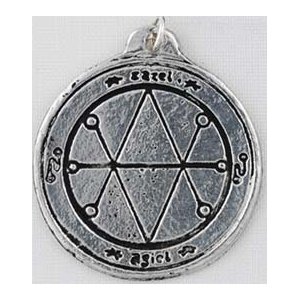 COLOR / MATERIAL:

Pewter


WEIGHT:

0.03 lbs



SKU:

ASATP
Description
This double sided amulet of protection harnesses the energies generated by the seal or sigil of Saturn combined with the words Zazal, the spirit of Saturn and Agiel, the intelligence of Saturn. Aids the bearer in warding off curses, hexes, black magic, and ill luck. 1", Pewter, comes with a cord, and is made in the USA.


Similar Items:
Saturn Seal of Protection Reviews:
Rated
5
out of 5 from
2
reviews.
---
Dear Reader, I have reviewed the Saturn seal of protection an this does work well on warding off curses, hexes and ill luck. I did not get this to ward off black magic so, I hope that the amulet understands this, I like this amulet and am extremely happy that the Saturn seal works so well in warding off most to all curses, hexes, ill luck, and it also get's along with most if not all other amulets,this is the positive. I would say it works to well and protects against the hexes, curses, and ill luck with a very powerful prolonged effect. I can say that this amulet is very understanding and patient with the rest of anyone's magical supplies. Saturn seal of protection is a very understanding amulet and adjusts to what the main focus of the individual is wanting to acquirer. I am happy that it's protection is here for me in a positive way: to protect my Good luck, so that I can use it when I need too. Very strong, very powerful, be careful how using this amulet, make sure the amulet has a clear understanding of the intent and desires that you are longing for before using it. Talk to it and it works well with all other magics. The most excellent part is that it is double sided and works so well with all the other amulets I would rate the work that this amulet does with a very high rating thank you for the protection and working well with all the other amulets,including all the other magics. blessings.
I ordered this as a gift for my boyfriend of 4 1/2 years to wear for protection from any harm, curses, hexes, ill luck, or black magic. I'm hoping that it will keep him safe and protected from any negativity or whatever tries to harm him. I really love the symbol on this amulet. It really grabbed my attention and drew me in. It's very compelling. I recommend this product.